DESCRIPTION OF FILTRUM®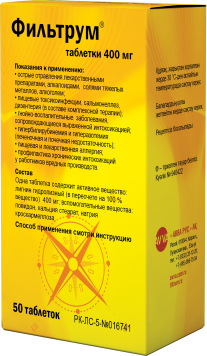 DOWNLOAD THE USER MANUAL
WHAT IS FILTRUM®?
Filtrum® - Novel approach to complex treatment of food poisoning and acute diarrhoea.
Filtrum® - enterosorbent of natural origin is based on lignin, produced by wood processing. Lignin hydrolysed possess unique sorption properties due to the presence of developed inner surface and porous structure. That provides significant benefits. Filtrum® binds molecules of different sizes.
Filtrum® absorbs and removes harmful bacteria, their metabolites, and toxins from the body, helping to quickly alleviate diarrhoea or food poisoning, irrespective of cause.
WHY FILTRUM®?
It acts quickly: Filtrum® helps to swiftly eliminate diarrhoea and symptoms of food poisoning.
It has a high ability to absorb harmful substances: due to the high sorption capacity (per unit of its mass) it can absorb more toxic substances than products based on activated charcoal.
It is recommended in complex treatment of food poisonings, dysentery, salmonellosis, and other enteric infections.
Natural, vegetable composition
IS FILTRUM® HARMFUL?
Filtrum® has a favourable safety profile. It is not toxic and is excreted completely within 24 hours.
Unlike products based on activated charcoal, it does not cause inflammation of the mucous membrane of the stomach and intestines. This is how it works.
There are contraindications for use of Filtrum® and all of them are listed in Instructions For Use.
You can buy Filtrum® in any pharmacy in your city!
WHAT HAVE YOU BEEN POISONED WITH?